The comic book industry is in a unique state of flux. The majority of the market seems to be dominated by mature, adult-oriented comics which cater to readers who are into serious reading having grown out of the "kiddie books". And then there is a small but vibrant list of oft-overlooked kid's comics–the sort of books that are appropriate for beginning readers.
I'm a huge fan of the former, but the latter is what is essential to ensure that there will be future readers of the genre. Here are a few suggestions to get your little reader hooked on comics.
1. The Ghost of the Grotto Starring Walt Disney's Donald Duck (Fantagraphics Books, October 2014)–Written and illus. by Carl Barks
Don Rosa claims that in many European countries a subscription to Donald Duck & Co. is a rite of passage for new parents, ensuring that their love for the gold-hungry duck can be passed to the next generation. This is all because of the groundwork that cartoonist Carl Barks laid out in his Donald Duck comics in the 50's. Fantagraphics Books has been releasing sleek, hardback collections of Barks's work, but their cover price is a little steep to share with grubby, toddler hands. Luckily, they're releasing these great, half-size paperbacks, too. Barks's clean line work and whimsical  story lines will introduce your beginning readers to what comic books should be: pure fun.
2. Jack and the Box (TOON Books, 2008)–Written and illus. by Art Spiegelman
Scott McCloud has written at length about the importance of comic books and their pedagogical potentials, and his theories on the facial expressions used in comic books are especially valuable to young readers. Art Spiegelman, widely acclaimed for his mature graphic novel Maus, draws a whimsical tale about a bunny named Jack and his toy Jack-in-the-Box. The story is cute and fun, but it's the expressiveness in Jack's face that really drives the story forward and makes this a memorable book to share with your child.
3. Usagi Yojimbo: Red Scorpion (Dark Horse Comics, 2014)–Written and illus. by Stan Sakai
Generally speaking, samurai comic books are violent–they're all about who can chop up whom with the most flourish–, so it's exciting to find a samurai comic that's more about doing the right thing than striking down enemies with wantonness. There is violence though, so this is better suited for a middle grade reader, but Usagi Yojimbo lacks the gore, which has become a genre convention. Be sure to read this one, too. The story "Taiko," about a drum maker continuing to craft beauty in the face of danger is the best commentary on art for art's sake and art as a response to tragedy that I've read in a long time.
Please note that this is just the tip of the kid's comics iceberg. I also highly recommend checking out A Parent's Guide to the Best Kids' Comics: Choosing Titles Your Children Will Love by Scott Robins and Snow Wildsmith (Krause, 2012). It's a really great resource for comic newbies and for concerned parents alike.

And finally, here are two comics to read during nap time
Cosplayers 2: Tezukon (Fantagraphics Books, 2014)–Written and illus. by Dash Shaw
Cosplayers 2 follows Annie and Verti from the first issue of Dash Shaw's series to Tezukon, a low-budget Anime convention in a small hotel. There we also meet Anime nerds Dave, a devotee to the girls' YouTube channel, and AJ, as well as Mr. Baxter, the neurotic Osamu Tezuka scholar (Also the feature image to this article). Cosplayers 2 works so well because even though it's clearly a sequel and a continuation of Shaw's mediation on what it means to be a geek in this disconnected age, it's also a functional story in its own right. It's an easily digestible thirty two pages–perfect for a quick read after you lay the tykes down for the afternoon–but the pathos of the book will stick with you for the rest of the day.
Alone Forever: The Singles Collection (Top Shelf Productions, 2014)–Written and illus. by Liz Prince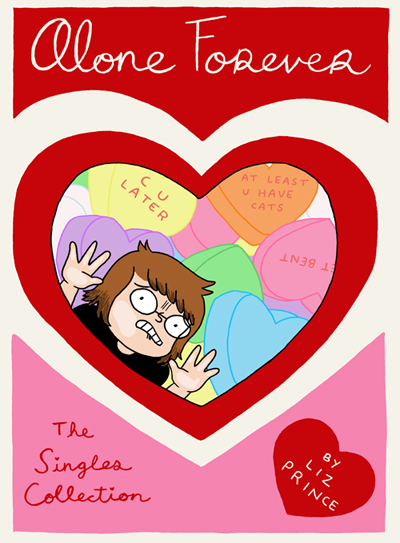 These collected strips depict the trials—and often delightful—tribulations of cartoonist Liz Prince as she flirts in mall food courts, dresses like one of the dudes, listens to the Marked Men, and fetishizes beards. Prince's strips reach their painfully honest peak when she depicts "the human horror buffet that is OK Cupid," to great comic effect. Prince draws in a minimalist, hurried style similar to Jeffrey Brown or James Kochalka—perfect for those who like their humor tinged with embarrassingly true pathos, and even better for busy parents trying to read in the fleeting moments before their snorts of laughter wakes up the baby.